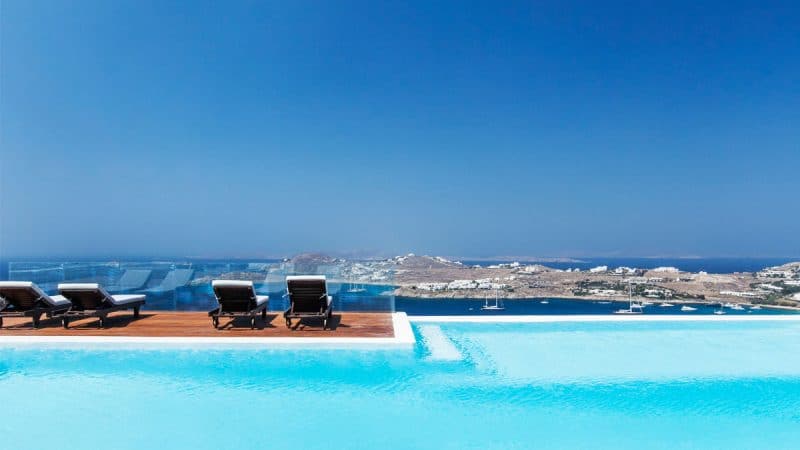 The ultimate guide to buying a villa in Mykonos
Join the jet-setters, high flyers, and multimillionaires and buy a villa on the Island of Mykonos! Endless white beaches, azure blue waters, ancient culture and history, luxury yachts moored in the picture-perfect harbor and an exotic nightlife makes this one of the most sought-after real estate regions in the world.
Here are some insider tips you need to consider when buying property in this ultra-chic location.
SIZEABLE  PIECE OF LAND – EQUALS PRIVACY
Look for Mykonos properties for sale that are a minimum of 4000 sqm2 land. This allows for privacy from neighbors and gives you ample space to tailor the land surrounding your house to suit your needs. Landscaped gardens, outdoor entertainment areas, spotlights, swimming pools and massive trees add to the overall value and increase the ambiance of the home.
The house must have a sea-view! These properties automatically attract a higher value and why buy a luxury villa on an island if you cannot relax and watch a magnificent sunset over the ocean?
When the winds blow across the Island they come with a vengeance. Ask any local about the infamous North Winds that blow in July and August. Make sure that the home faces south, offering protection from the wind as it will come from the back. A west facing home is also fine, as the wind will hit from the side and you do have the advantage of stunning sunsets.
The most sought-after area on the Island is the south-west, from Fanari to Agios Giannis. This is closer to the Mykonos Town center and offers magnificent views and famous sunsets. The south-west region also offers municipal water as opposed to other far from Mykonos Town areas which make use of water tanks. This may be a challenge for urban-city movers and shakers!
Parking space on Mykonos comes at a premium, especially close to the Town. Everyone wants to show off their BMW X5 or Porsche. Make sure that the villa you are looking at has ample private parking space for your needs and for your guests.
If you are looking for an investment and have some cash flow, consider buying an older and relatively cheaper property and renovating it. There is a huge demand for rental properties and you can rent it out for part of the year at a good price to recoup your costs. When you want a vacation, you have your own private villa waiting for you on a paradise Island.
Finally, do not attempt to do this alone. Get a local estate agent to help you. A Mykonos Real estate company like Mykonos Estates has years of experience and knows all the ins and outs of this Island intimately. Kostantinos and Evangelos Palkogiannis are locals with hands on the pulse of what is happening. They will listen to your needs and take you for exclusive viewings to find your dream villa at the best possible price.