Mykonos: Where to buy Properties
Where to Buy 
Mykonos, one of the most beautiful islands in Greece has become an eye candy for the world. People from across the world are leaving no stone unturned to buy a property in Mykonos. As Mykonos is one of the most favorite travel destinations of the classes and the masses, there are several hotels, resorts, rental villas and apartments, but people want to buy permanent property in Mykonos.
Buying properties in Mykonos is a hard nut to crack, not because the property rates are touching the sky or the property does not fit in the needs of the buyers, but because there are so many lucrative and breathtakingly beautiful real estate options available in Mykonos that choosing the best property becomes quite a task for the buyer.
Here, we give you a glimpse of the best regions in Mykonos where you can buy a property. Take a look:
Chora is situated in the center of the Western Shore. Also known as Mykonos Town, Chora is the area where all the restaurants and travel attractions are located. Thus, investors are considering it a great opportunity to buy a property. The Cycladic- style architecture, the whitewashed houses, balconies overlooking scenic views; buying a property in Chora is totally worth it.
Ornos is considered the most family-friendly part of Mykonos making it ideal for small or large families. It is situated in Mykonos's western part, about two miles south to Chora. This area has a lot to offer in terms of Mykonos real estate. The reason behind this is the calm waters and easy transportation and connectivity with other parts of Greece. This part of Mykonos is well connected to mainland Greece and other islands via ferries and small boats.
Agios Ioannis is located on the western shore of Mykonos. It is the least crowded area of this island which qualifies it as the best option for the people who prefer solitude and serenity. There are many luxurious villas for sale in this area which offers a splendid view of the nearby Delos Island.
Other than Chora, if there is any other real town in Mykonos, it is Ano Mera. It is located central of Mykonos. The town is quite traditional and quieter than its counterparts. There are many lucrative properties in Ano Mera; plush villas and apartments that are full of amenities and pristine beauty.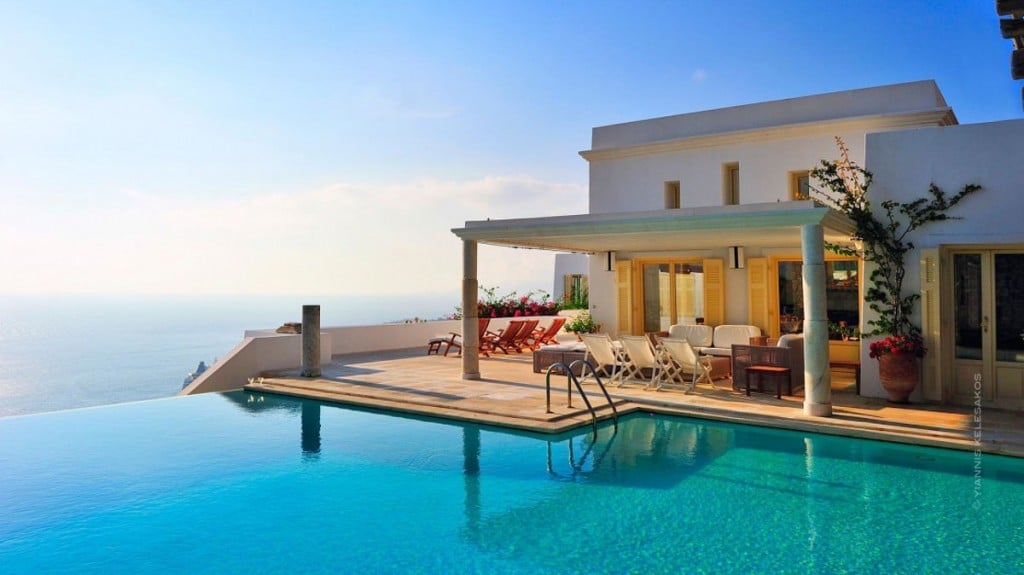 Tourlos is located in the northern portion of the west coast of Mykonos. This is the location for the two latest ports, thus, has good connectivity with the rest of the islands. Talking about property in this area, there are many Cycladic-style houses. There are many Mykonos Greece villas for sale such as these properties on sale here. This area is perfect to buy a dream holiday house in the Greek Islands.
Apart from these areas, you can also buy properties in Platis Gialos or Kalafatis. There are many luxurious villas for sale in these regions too.