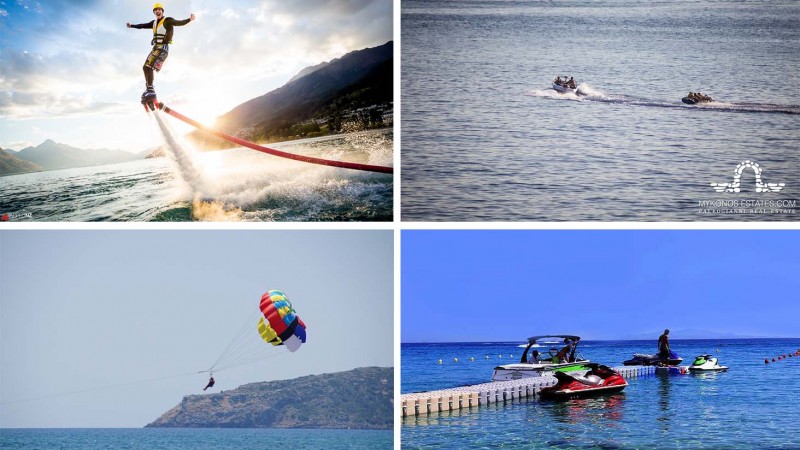 Marvel of Marine Leisure – Mykonos Island
Soothing music, au naturel, swimming in the sound waves all around. Nature embracing and enfolding the senses in its warmth. Moving as if in a choreographed rhythm, the transient, yet crystal blue waves rise in majesty and then push forward with their step. They fall from their rise and turn silvery white on meeting the white gold beach sand, but still do not lose their merry coquetry, barely missing the feet that await their touch as they rush back to join the sea.
The salty air, the pacifying caress of the breeze, the vista of every shade of blue magnificence, all, maybe, very familiar, yet with a mystic, enigmatic charm that is never the same – this is the bewitching marvel of Mykonos – the quixotic Greek island that comes with its own share of mythology thanks to Hercules, who reportedly hurled a pile of boulders at a group of evil giants who were trying to topple his kin.
Like its dreamy and idealistic legend, the quiet cove at Mykonos' Agrari Beach is the  ideal place to relax and surrender your senses to the natural surroundings. This is just one facet of the kaleidoscopic bundles of offers that Mykonos has to propose. But, halt! If, you are not one, who relishes in subtle nuances of nature's romantic enticing, but, rather savor real zest of adventurism, then fear not! The island is a heaven for water sports enthusiasts as it offers all kinds of water sports activities on its beautiful beaches. Agrari Beach, Platis Yialos and many other beaches boast of providing the best water sports facilities. From jet-skiing to water tubing, you can try your hand at an amazing array of possibilities of pumping your adrenaline. So, unleash your inner Hercules and dive into these sports:
Jet Skiing – Jet skiing fan, are you? Glide your jet and ride the waves as you cruise past the mind blowing beaches of Mykonos. Despite the fact that it's genuinely easy to learn, jet skiing requires the utilization of numerous muscles and will give you a full body workout, while on vacation!
You can navigate and explore the waters and fly over the waves on the Jet Ski, either while sitting or standing. Jet skiing is an energizing water sport and an awesome opportunity to hit the sea at flying speeds. Moreover, you'll have an incredible perspective of the sea and the shoreline as you speed through the waves! Specially trained and experienced personnel will be available to teach you how to control the Jet Ski to excel at this craft and will inform you of the required safety procedures.
Parasailing – Experience a life, temporarily, as a human kite! Enjoy the mesmerizing views of the coast, while sailing above the crystal clear waters, rich with marine beauty. You are destined to have the time of your life sailing above these shores.
Flyboarding – Flyboarding can be an experience of a lifetime. Reminiscent of The Jetsons and Iron Man, flyboarding will make you believe that you, too, could be a superhero. It may appear intimidating, but it really is not. You'll pick up the manoeuvering in no time! You'll experience the rushes of the wind while flying in the air and floating and moving in the sea like a dolphin, defying gravity!
Water tubing – If you are one who thrives in the splashes of the sea and with a mighty fun-craving streak, you would absolutely love tubing. It is a very easy, yet gratifying, sport that requires you to able to hang on and enjoy the fun. Appropriate for all ages, and a splendid workout that enhances your coordination skills and strength, this sport is ideal if you want to enjoy quality time with family or a group of friends. All you need to do is put on your safety gear and let the fun roll!
No matter what your disposition is like, regardless of being sporty or not, it is safe to say that a holiday to Mykonos will satiate your senses. Whether you plan for a solo vacation, or with a loved one, or even a group of friends or family, your needs will be delivered to. You do not want to forget renting a villa for yourself to unwind and feel at home, away from home.
Unravel the beautifully multi-layered offers of Mykonos with an equally enchanting and luxurious villa to add glow and radiance to this journey of exploration and adventure. The private and picturesque Mykonos villas offered by Mykonos Estates are real estate masterpieces that come complemented with proficient staff and VIP services. Complete your dream vacation experience with the thousands of Mykonos Estates' contented customers. So what are you waiting for? Mykonos is welcoming you in its turquoise arms!