A truly complete guide to Mykonos beaches – The south of Mykonos (part one)
Written by Hannes Ben
Select a location below to jump directly to it:
1. The right place for you
2. Understanding your requirements
3. Southern shore (part 1)
4. Ornos Beach
5. Santa Marina Beach
6. Agios Lazaros
7. Scorpios beach
8. Paraga Beach
9. Paradise Beach
10. Super Beach
11. Glyfadi beach in Aleomandra
12. Psarou beach
13. Platis Gialos
14. Hidden Beach (Platis Gialos)
15. Paraga Agia Anna
16. Agrari
17. Elia Nudist
18. Elia
19. Karapetis
20. Kalo Livadi
21. Kalo Livadi side
22. Loulos
23. Loulos side beach
24. The Wild Hotel
25. Agia Anna
26. Divounia
27. Kalafati
28. Lia
29. Hidden rocky beach
30. Tsagari
31. Frangias
32. Final words (part one)
---
Mykonos does not need any introduction. By now, it is known globally as the crown jewel of the Greek islands, not only by tourists from several countries (such as the USA, the UK, Germany, France, and Italy) who have been visiting for decades, but also by cultures from all over the world, reaching from the Americas in the West, through Europe, Africa and the Middle East, to many countries in Asia in the East. People of all backgrounds, colours and sexual orientations have discovered the freedom and beauty of the island of the winds in recent years.
For many people, some of the most common associations when hearing about Mykonos have been: 'the party island', 'loud and wild clubs', 'the biggest DJs in the world', 'the island of the gays', 'astronomically expensive', 'only for the rich', and so on. Some of the statements above are not entirely wrong. You can indeed find the most exciting events, parties, DJs and clubs from June to September in Mykonos. I would even go so far as to say that it has pretty much surpassed other popular summer party destinations such as Ibiza, Mallorca and the like over the last 5 years.
The right place for you
With an increasing number of new high-end hotels, villas and rental flats, the volume of people visiting Mykonos from the end of April until mid-October has increased continuously. While about 5 years ago you pretty much could not find accommodation when trying to book a few weeks before July/August, currently there is a large variety for all classes of people; arguably, however, a significant percentage may be aimed more towards the upper-middle classes and anything above, including the upper classes, the wealthy, the super-rich, millionaires, and billionaires. Furthermore, accommodation is spread all across the islands — visitors would in the past try to stay in town or as close to town as possible. At present, in contrast, the availability of stunning properties around the many beaches, inland or in more traditional Greek villages such as Ano Mera is plentiful. There is a growing preference to stay farther away from town in a stunning villa or a more isolated hotel with mind-blowing views and less noise at night. At the end of the day, it all depends on what you are looking for and what type of person you are — if you want to reach the stunning town centre on foot and stroll around the cute, traditional, stone-paved streets while enjoying beautiful restaurants and the bustling nightlife, then stay in/around town. Meanwhile, if you are more the type of person who desires to sleep quietly and wake up in the morning to a stunning view, then choose a beach; in addition, if you are going to experience the more traditional side of Mykonos, then stay in Ano Mera.
Understanding your requirements
As far as price is concerned, you can find anything from the many top-end five-star hotels and uber-luxurious villas to cheaper hotels, shared villas, or flat rentals. You can easily find a great short-term rental flat booked with friends for a very affordable price. For approximately USD6000/month (2021), if booked early, you could find a lovely one-bedroom flat during June/July/August, maybe not in the town of Mykonos but in Ano Mera or another beautiful, quieter area on the island. It is important to remember that nothing is very far away in Mykonos. With a car, ATV or scooter, you can reach anywhere in a maximum of 30 minutes. I regularly drive from one end of the island in Aleomandra to the other end, where I can find isolated beaches such as Frangia and Tsagari in only 25 minutes with my Vespa.
In summary, all of the talk in the media that Mykonos has grown to be so outrageously expensive that only the super-rich can afford it is simply not true — be it for accommodation (as explained above), food, entertainment or shopping, there are always a range of options on offer.
Do you go to high-end, world-renowned restaurants in which you can mingle with celebrities from all over the world? Well, yes, you need a reservation, and you had better have a thick wallet with you.
Do you seek the most exclusive clubbing events with the best DJs? You can find them cheap if you book early or can pay if you are a late joiner and are lucky enough to still obtain a ticket.
Do you want to enjoy one of the many stunning beach clubs offering crystal-clear waters, a mesmerising atmosphere, gorgeous food and drinks, and joyful music 24/7? You can find the aforementioned at many beaches. Still, depending on the popularity, you may again need an early reservation, and for some you can pay significantly more than for others. I will further elaborate on that later, when I delve into the details of what the many different beaches of Mykonos have on offer.
It is the unique blend of high class, elegant style, the strictly consistent white cubic architecture never surpassing two floors, the town of Mykonos with its narrow, traditional, stone-paved streets, the impeccable service, and the wide variety of food, accommodation and entertainment that puts Mykonos not only above any other Cycladic island but also in the group of top-notch island destinations worldwide.
Today, I would like to focus on one part of Mykonos, which has contributed considerably to its growth in recent years. While the island has always been known for its beaches, many visitors had not been aware of the large amount and incredible diversity of beaches until recently. People would constantly talk about Ornos, Psarou, Platis Gialos, and Super Paradise but would struggle to come up with the names of others. Later, however, Elia, Agia Anna, Paraga, and Kalo Livadi began to gain popularity. That is when travellers worldwide would start spreading the word about Mykonos being a dream island of beaches, not merely of clubs and parties. Over the last 3 years, a large number of people whom I have met in Mykonos have visited the island purely to relax and enjoy the sun and crystal-clear waters in several its stunning beach spots.
Another popular activity is beach hopping, which basically refers to visiting a variety of beaches, one after another, allowing visitors to discover the island's diversity and identify hidden spots even during the busiest season of the year. Mykonos is the ideal island for beach hopping, owing to the sheer volume of beaches, the fact that many beaches are closely linked, and the different types of environment of each. Some beaches come with beautiful, soft sand, some with light, almost white sand, others with pebbles, and then you have a few rocky beaches and some with larger, round, comfortable stones. Many have to be reached by foot or via boat, or you can swim up to them.
I will not be able to cover every beach spot that I have discovered in one single article. Thus far, I have found more than 40 beaches, more than in any other online article about Mykonos beaches. It is important to note here what I consider to be a beach:
Beach — a relatively flat area of either sand, pebbles, stones or rocks (on which you can at least sit comfortably) that reaches straight into the sea. You must be able to relax and walk into the sea from the flat area; therefore, a cliff or rock from which you jump in does not qualify. The flat area must be reachable by either foot, vehicle or boat.
I will start with the island's southern shore, which tends to be the most popular during the summer months, especially when it is windy because this part is protected from the strong winds from the north, particularly the ferocious Meltemi — the northern summer wind.
Please note that my list is not exhaustive, and I continue to discover new spots every year. Therefore, please return regularly to see whether there are any updates, and the total number of beach areas has increased.
Southern shore (part 1)
I will be moving from southwest to southeast systemically, beach by beach. Thus far, I have discovered and viewed 28 beaches in this section of the island.
Glyfadi beach in Aleomandra
This is not a beach that you can view on Google Maps. Strangely, however, it is not minor and there are sun loungers and services provided by the Casa del Mar Villas right next to it. You ought to look for the villas if you would like to visit the beach. I stayed in one of the many stunning private villas in Aleomandra, one of which is right above the beach. The photo below was taken from the master bedroom of the villa in which I stayed — a true gem that provides stunning views of Glyfadi beach. Even during the height of the summer, there were few people, and the waters were stunningly clear down to 15 metres in depth and incredibly calm, especially considering that it was relatively windy during my time there (not the Meltemi, but rather constant breezes from all sides). The reason for the beach's isolated and unknown status is definitely the lack of visibility on Google Maps. The sun loungers and drinks are affordable in comparison to any of the famous beaches, being in the tens of euros, not the hundreds of euros.
There is a considerable amount of construction happening in Aleomandra, with many new villa complexes, individual luxurious villas, and some smaller boutique hotels opening regularly. The Kardashians chose the same area as their holiday destination in Mykonos a couple of years ago. The sunset and the uninterrupted views towards the two mystical and historical islands of Rineia and Delos (both of which belong to Mykonos) produce a truly unique experience, making this area hugely popular among the more affluent cohort.
Ornos beach
There are some smaller, relatively unknown beach spots when moving farther eastward from Glyfadi beach, but in reality, the next easily reachable beach in that direction is the famous Ornos beach. Ornos is located at the southern end of a very narrow strip of land with Korfos beach on the opposite side in the north. While they are incredibly close to each other, they are fundamentally different in what they offer. For example, Korfos is exceptionally windy, whereas Ornos mostly has a calm breeze, even on the most blustery days, thanks to its location in the south and its protection by land on the west and the east.
This is a trendy beach spot because it is easy to reach via vehicle. It is surrounded by numerous accommodation, including everything from cheaper hotels, apartments and villas for rent to more exclusive hotels (such as Kensho Ornos) and high-end villas for rent or sale.
It can become extremely busy during July and August, whether one is paying for a sun lounger or trying to gain a free spot in which to place his or her towel. Some people visit to eat some great food at the Kuzina restaurant, which offers all sorts of food (including different types of sushi and sashimi) and is open from 8 a.m. to 1 a.m.
For a more exclusive spot in which to sunbathe and eat superb food, one can always try to book a place at the Pasaji Mykonos beach bar and restaurant.
Personally, I love Ornos during May, June, September and October to eat some great food at any time at Kuzina and have a quick dip, especially when it is windy everywhere else on the island of the winds. But, on the other hand, let us suppose that you like it crowded and would like a mixture of people of all backgrounds coming together on the beach in a significantly cheaper environment than its high-end, luxurious neighbours such as Nammos at Psarou beach, Scorpios, Alemagou, or Principote. In that case, Ornos is the place to be.
Santa Marina beach
Moving slightly farther eastward from Ornos, you will arrive at one of the top five-star hotels in Mykonos — Santa Marina Hotel. This is a vast hotel complex offering all that one needs, including amazing pools, luxurious spas, gyms, the unique Buddha Bar and Mykonos Social restaurants (which are open to everyone, not only guests), and, last but not least, its own private beach. This is rare in Mykonos because, technically speaking, no beach can be 100% private — they always have to be accessible by anyone. Somehow, despite being a wide, stunning, sandy beach area with exceptionally calm and crystal-clear waters, Santa Marina has managed to limit the beach primarily to its guests.
However, you can enjoy your time there if you book a sun lounger from EUR120 to EUR200 per day, depending on the time of year. However, one should expect those prices to increase again next year.
You can also make a reservation at the delicious Buddha Bar restaurant, which is right on the beach, allowing you to stroll around in the sand and have a swim if not too late in the evening.
Agios Lazaros
There is a small beach very close to Santa Marina, which was known only by the luxurious villas built in the surrounding area for a long time. Thanks to its location, it enjoys calm, crystal-clear, blue waters with little wind and very few people around. You can drive up to Beachfront Mykonos Villa or the Boundless Blue Villas, which are located on the closest road nearby and can also be found on Google Maps. From there you can simply walk down to the beach. Unfortunately, there are no amenities or sun loungers to rent; therefore, you ought to bring your own stuff unless you are renting one of the villas nearby.
This is a unique spot hidden in one of the most popular areas of Mykonos, surrounded by arguably the most well-known beaches.
Psarou beach
My goodness, where do I start? Is it fair to say that this is the best-known luxurious spot in Mykonos? I would argue that it has probably remained so in 2021/22, although fierce competition is coming from Principote, Alemagou, SantAnna, and Scorpios. The four places above are not beaches but rather beach clubs/bars/restaurants/chill areas, making the beaches on which they are situated famous. I will further elaborate on those beaches later on.
Returning to Psarou, it has not merely become famous thanks to the village of Nammos and its beach club. Instead, it has long been known as a beautifully calm, wind-protected southern beach with turquoise-blue, shallow waters with a maximum depth of 8–10 metres (even if you swim far out). During the second half of June, July and August, the sea in front of Psarou beach is occupied by yachts of all sizes, including some of the most luxurious multi-million-dollar boats. You will likely encounter some A-list celebrities shopping in the glamorous village of Nammos or partying at the Nammos beach club and restaurant.
Aside from some high-end, luxurious hotels such as Kensho Psarou and Mykonos Blue, you can rent or buy villas or land on the hills behind Psarou beach, providing you with mesmerising views. You can check out some rental villas or spots for sale here.
While it is true that the sandy beach is beautiful and the water is clear, you must feel comfortable with busy waters and swimming close to other people, surrounded by yachts farther out. Undoubtedly, it is entertaining if it is a bustling atmosphere that you are seeking with fantastic food, drinks, and stunning people spending exorbitant amounts of money.
Platis Gialos
When I ask frequent travellers to Mykonos what beach they prefer the most, I receive Platis Gialos as the top answer in 50% of the cases. In many ways, this place is similar to other beaches in the south: protected from the wind, sandy, shallow waters resulting in beautiful, turquoise water reaching far out into the sea, and a great selection of bars, restaurants, beach clubs, hotels, and villas all around.
This means that it certainly is a busy beach, especially in July and August, but it feels less noisy in terms of music and parties, and has more of a local vibe with local Greek restaurants in comparison to its neighbour Psarou.
The surroundings are fully occupied by buildings comprising luxurious hotels (such as the beautiful Branco or Dove Beachfront Hotel) and many villas for rent and even some for sale.
The light sand combined with the shallow waters barely interrupted by rocks or seagrass results in an extra-blue shine on a sunny day when the sun stands at its zenith. If you do not like crowds, you ought to definitely try this beach in May, the first half of June, the second half of September or the beginning of October (when you can still catch some lovely, warm days with temperatures of up to 28 degrees outside and 24 degrees in the water).
Hidden Beach (Platis Gialos)
When you zoom in on Google Maps on Platis Gialos and then move farther eastward, you can see a spot on the beach that simply reads 'Hidden Beach'. I discovered it while standing on the far right of Paralia Agia Anna when exploring the surrounding area with my phone's zoom function.
This is a nice, little beach spot with a mixture of tiny pebbles and sand. The water appears totally clear; therefore, you can see all of the small rock formations, stones, and other things at the bottom of the sea when walking in.
It is quite tricky to reach because you have to walk from Platis Gialos along a stone wall. Unfortunately, as this beach is not taken care of by anybody and there are no amenities, it seems that some people coming to enjoy this natural beauty simply leave behind some of their trash.
It would be an easy fix — people merely need to take their rubbish with them. I guess that this is when hotels and beach clubs help, since my experience has been that they walk along the beach and its waters several times per day and remove anything left behind by the wild crowds.
If you would like to get away from the craziness of Platis Gialos during high season, then walk over to this hidden spot and, on your way back, pick up any trash that you see and help to keep everything clean and tidy (as it should be).
Paraga Agia Anna
You will have to drive past this beach on your way to the super-famous beach clubs Scorpios, SantAnna, and Kalua. It does not seem like much and is almost squeezed between the street and the sea.
Having said that, it is a beautiful, sandy beach with clear waters and many free places in which to lie down and enjoy the sun. Sun loungers are priced EUR20 to EUR30, which is very cheap in comparison to what one might pay at its expensive neighbours. What is more, the location is very protected from the wind; therefore, you can have a great time while swimming in relatively shallow waters. The bottom of the sea is not purely sand but rather mixes with seagrass and rocks in some parts, but that does not make it any less comfortable.
This beach is surrounded by bars, restaurants such as Piny Beach, and low-cost accommodation like Agia Anna Paraga Studios.
It is a beautiful spot in which you will not be required to splurge the kind of money expected on the high-end beaches to the west and east.
Hidden side beach (Paraga Agia Anna)
When you swim along the left-hand side of Paraga Agia Anna towards Scorpios, there is a stunning beach spot with magnificent sand, maybe allowing space for 2–3 people to sit. You could possibly climb down to it from the Scorpios parking space, but that may be slightly hazardous.
Scorpios beach
Moving farther eastward from Paraga Agia Anna, we finally arrive at the famous Scorpios beach club and restaurant. It is a favourite of many travellers and celebrities. In 2019, the global Soho House purchased it, transforming it into such a popular spot that you need a reservation weeks in advance and to have good connections in order to attend the best nights during July and August.
On Google Maps, you cannot actually see a beach; in fact, however, Scorpios has built a beautiful, private beach. You do not have to be there for a party or to enjoy food at the fantastic restaurant. Instead, you could merely visit the beach and utilise one of the stylish sun loungers. This is one of my favourite beaches on which to relax due to the comfort of the loungers, showers on the beach, excellent drinks and food served to you on the beach, and stunning toilet facilities built into a rock on the beach.
The water is clear when the sea is calm, but as the bottom of the sea is mainly rocky, it does not appear as turquoise blue (as with other beaches). Nevertheless, it is equally lovely to swim there.
Soho Roc House (belonging to the same owners) is not located right on Scorpios beach. Rather, it is farther eastward, past the next beach.
Paraga beach
Firstly, let us clear up some confusion surrounding the name. On Google Maps, it is spelt Paralia (which means 'beach' in Greek) Panangka; meanwhile, some others call it Paranga. The right way of saying it is 'Paraga beach'.
The water is equally clear to that of Paraga Agia Anna and you can walk to it in a few minutes from Scorpios. You have the higher end and the huge SantAnna beach club on the beach, and next to it is the smaller, mid-end Kalua beach bar and restaurant. This means that while it is a beautiful beach on which to enjoy the sun and swim in turquoise-blue waters, please be aware that there might be relatively loud music all around you. You can find spots in which to lie down free of charge and obtain food and drinks from any of the bars or taverns surrounding it.
There are rocks along the shore and dotted throughout the water; therefore, please be careful when walking around barefooted, as some of them can be quite sharp.
Paradise Beach
There are probably a few hidden little beaches before reaching the next big sandy spot which has been known for decades — Paradise Beach. This was once a prominent party spot known for its hedonism, wild parties, and eclectic mix of fun people.
Over the years, it has received much competition from the surrounding beaches. While once particularly popular among the gay community, nowadays there is a very mixed crowd of all sexual orientations, although I would argue that it is more straight at present.
When facing the sea, you can see the hugely popular and internationally renowned Cavo Paradiso club on the left-hand side on top of a cliff. It is definitely one of the best party places that I have ever experienced with stunning views. However, this is not an article about nightclubs, so I will return to the beach fun.
Paradise Beach is full of sun loungers at reasonable prices, as well as some sandy spots in which to put your towel for free. Of course, there is no shortage of drinks and food to buy in the clubs or restaurants. It certainly attracts a wide range of people, albeit less so those with deep pockets.
It is a wonderful, sandy beach with clear, blue waters and some underwater rock formations on the left-hand side, but there is nothing to worry about.
You should visit and enjoy this party beach if you are with a large group, do not want to spend a fortune on a lounger, but still expect a stunning beach with a calm sea and excellent water visibility.
Super Paradise
This part of Mykonos has been a hotspot for quite a few years. Nevertheless, I feel that it has grown in popularity over the last years among the gay community, particularly on the right-hand side (where you can find the famous Jackie O' Beach Club & Restaurant) and left-hand side (where mainly the straight community party at the Super Paradise Beach Club).
I would classify this place as a sandy beach, but larger sand grains (rather than superfine ones) can find their way into all of your belongings. Whenever I walk down to the beach from Jackie O' on a sunny day, I am quite mesmerised by the impeccably turquoise-blue waters (thanks to the light sand and the shallowness that reaches a depth of 5–6 metres as far out as 50–60 metres). A slight issue is that if you decide to snorkel or dive, you may discover a large amount of discarded plastic of all sorts — cups, dishes, sunglasses, cans, and much more. Of course, none of that negatively impacts the beauty of the beach, as you cannot see it from the surface; nevertheless, it is somewhat of a shame that party-hungry folk seem to throw some of their rubbish into the sea for it to sink and stay there.
Come on, snorkellers and divers, let us clean it up! And to all beach clubs, restaurants and bars, you ought to encourage people to walk along the beach and dive into the shallow parts to keep the sea spotlessly clean.
In terms of accommodation, a few resorts, beach residences, and villas have emerged on the left-hand side behind Super Paradise Beach Club on the hill. They have made the surroundings look even nicer, especially when the sun sets and the lights are switched on. The beautiful hotels and villas combined with the clear water and a star-studded sky at night provide a real 24-hour experience.
Agrari
As we move farther southeast past the hyper-popular, world-renowned beaches with their massive crowds, we slowly move towards a selection of incredibly diverse beaches and some of the most beautiful on the whole island.
I would like to start with Agrari, which is not a small beach and can be easily found on Google Maps. Strangely, however, there seems to be quite a long drive to get there, passing through the little town of Ano Mera and then traversing a long, curvy road until you arrive at a street with lines of trees on the left- and right-hand sides. Yes, you heard me correctly — trees! One of the unique things about this beach is the large number of lush, green trees all around. They may survive the hot summer thanks to sitting in somewhat of a valley in which some water is collected in the slightly more fertile soil behind the beach.
You can find a cute, affordable four-star hotel there — Sunrise Hotel Mykonos — and some other lower-cost accommodation as well as a bar and restaurant. Adjacent to the restaurant, a lovely, little chapel gives this beach an extra-special touch.
This beach contains small, fine stones, and some say coarse sand, with which I disagree. It feels somehow more comfortable than the sand on other beaches. The fauna and flora in the water are stunning, combining clear sand with rocky formations and fauna filled with all sorts of fish. Some snorkelling and recreational freediving in this area are highly recommended.
You can simply place your towel in any free area or rent one of the sun loungers for a few euros.
This is a gem of a beach that differs considerably from any other beach in Mykonos. Even at the height of summer, you can still find a spot and the water is never overly occupied by people swimming in your way.
Elia Nudist
Taking a short walk over the rocks on the left-hand side of Agrari will lead you straight to the Elia Nudist beach. People of all sexual orientations enjoy the sun and water while nude on this tiny strip of sand. There are no facilities; therefore, bring whatever you need with you. However, please be aware that it can become very cruisy when the sun sets, and you may likely encounter some unwanted 'live action'.
Elia
The next beach to the east, a short walk over some more rocks, is the massive Elia beach. Here you can find a long, sandy strip with endless sun loungers belonging to different villas and hotels. The sea in this location has crystal-clear waters that, when observed from any of the hotels in the Myconian Collection high up on the hill behind, appear in several beautiful blues ranging from light blue to turquoise and darker shades. It is a truly stunning view when you step out on your balcony from any hotel or villa room.
This area has grown enormously in popularity, with many people trying to rent a villa, stay in one of the numerous five-star hotels or go a step further and buy land or property themselves.
You can dive down to a depth of 10 metres and still see wide and far through the super-clear waters. Moreover, there is zero risk of stepping on anything that may harm you, as you genuinely have only sand as far as you can see. It almost feels like one massive natural swimming pool.
Despite its size, this beach can become very busy; however, it never feels crowded when swimming or diving, as there is such a vast sea area. Even Elia's watersports activity does not seem to get in your way (regardless of when you venture into the sea).
Karapetis
This has been my favourite beach for many years. It is truly hidden but not small, tough to reach by foot, and has impeccably clear water with smooth, light-coloured sand and some strange, large, white rocks on the far left.
You can find it on Google Maps, but a road would stop 500 metres short of the beach, high up on a steep hill.
Walking down that hill, which is full of dry, stinging plants and stones, is no easy feat; once you reach the destination, however, joy fills your heart. When hiking down, the mesmerising blue of the waters keeps you going and excited.
There are absolutely no houses, villas, bars, hotels or restaurants there — at least not yet, I should say.
The area surrounding Karapetis was sold to property developers in 2019, but it is not yet clear as to who will build there. However, some voices have mentioned that it will be occupied by a very well-respected, international, high-end luxury hotel, in which case this could develop into a beautifully protected area which is kept clean by responsible staff.
It remains to be seen what will happen over the next couple of years. I will continue to update the article with the latest information, as I myself cannot wait to see what will develop in this unique spot on the island of the winds.
Kalo Livadi
Moving on from the untouched (as of 2021 at least) Karapetis beach, we can find the long, sandy Kalo Livadi. A couple of years ago, this was an area where you had relatively few people and many spots in which to place your towel free of charge. While it is still easily possible to find a place at the present time, even during the peak season in July and August, significantly more action is happening with Logan Beach Club and the high-end Solymar beach club and restaurant. Furthermore, here you have the five-star Aegon Hotel (which belongs to the Marriott Group). Due to some issues surrounding the construction, it had a somewhat bumpy start-up; eventually, however, the hotel properly opened its doors in summer 2021.
There is a vast landscape area with rocks, some green spaces, and hills surrounding Kalo Livadi, providing fantastic opportunities for future developers to build hotels or villas that can enjoy the stunning views over this beautiful, wide, sandy beach.
The water is crystal-clear and only reaches a maximum depth of approximately 10 metres, even when swimming as far out as about 200 metres. Therefore, one can dive down a few metres with goggles and enjoy the infinite, blue, transparent visibility, with only sand at the bottom and some fish here and there. Unlike some hyper-popular beaches, I could find only a few plastic cups at a depth of 8–10 metres, barely noticeable by anybody (unless they are slightly more serious about their diving).
There is also a helipad higher up on the hill behind the beach, which is frequently used during July and August by the rich, mostly flying in from Athens, but when relaxing on the beach, you barely notice the noise from the helicopters.
Kalo Livadi side
When you drive past Solymar on the far right of Kalo Livadi and follow the road up the hill and along the sea, there is a small beach spot approximately 300 metres from Solymar on the right-hand side. You cannot see it directly from the street when driving, as there is a relatively steep rock leading down to the small, sandy place. It is situated right about where you can see an electricity mast.
Even during the busiest time of the year, I have never seen anybody there, as it is too far to swim from Kalo Livadi and too risky for most to climb down. If you choose to do so, however, then you will have a tranquil spot just for yourself and maybe a maximum of two friends to sit and enjoy the sun and calm sea.
Loulos
Following the same road farther eastward, you will reach Loulos beach, which can be found on Google Maps, although it is not easily visible from all angles when driving past via a car or scooter.
I was blown away by this lovely, sandy beach and its much diverse fauna and different kinds of fish when you swim slightly farther out.
This is not a small beach and there are quite a few villas around; despite all of that, however, there are still only a few people there during July and August. Moreover, there are absolutely no facilities of any kind, which means that bringing your own towels, sun umbrellas, food, and drinks is crucial to enjoying a day of sunbathing and swimming at Loulos.
Loulos side beach
If you swim along the left-hand side of Loulos beach towards a large, deserted building that does not resemble the usual Myconian cubic architecture in any way, you will find a small, hidden beach spot that offers space for about 3–4 people. Furthermore, you can walk on land to the site and then climb down close to the deserted building.
Clearly, this spot has been used as a party place by some people previously, as there was some rubbish hidden behind a few rocks when I discovered it.
This place is excellent for snorkellers and freedivers who desire a slightly greater depth of around 15 metres closer to the shore and with a great deal of fauna and all sorts of little fish in the vicinity.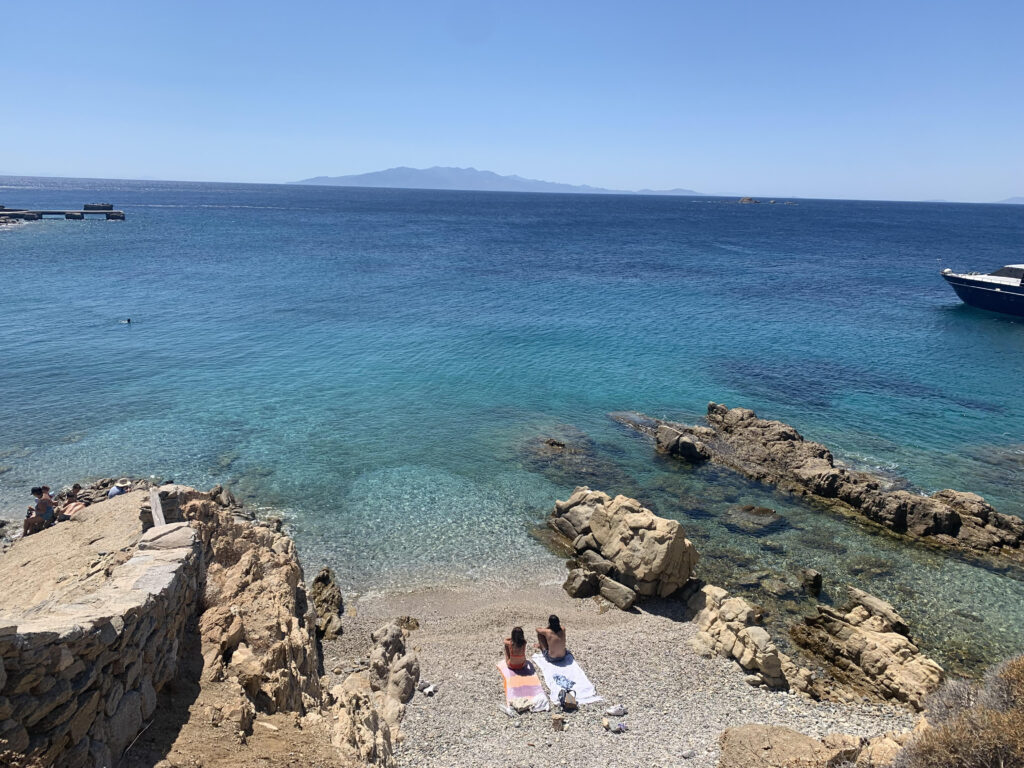 The Wild Hotel
Moving on from Loulos, you will find a gorgeous, private beach belonging to The Wild Interni Hotel. It is a sandy beach that is wonderfully protected on both sides from the wind and offers a pleasant, super-calm, non-party atmosphere. The view from its pool over the beach and sea is pretty spectacular as well.
Unfortunately, like with Santa Marina, it is not easy to reach the beach if you are not a guest, even though (strictly speaking) no beach can be entirely private. The hotels on those beaches simply do not make you feel welcome unless you are staying there, visiting somebody else who is staying there, or coming for food and drinks in one of their restaurants.
Agia Anna
I became aware of this beach when driving towards the huge Kalafatis beach right after Agia Anna. It stood out because during the height of the summer heat there was still some green with trees around, albeit significantly less than at Agrari beach.
The colour of the water appears in shades of turquoise and dark blue, which, combined with the little hills on the left- and right-hand sides dotted with hotels and villas, renders this a beautiful, idyllic place.
Undoubtedly, it has become busier over the years, but there is still more than enough space farther on the left-hand side to place your towel and relax without spending any money.
Otherwise, you can get a sun lounger at the Agia Anna Beach Bar & Restaurant, which does become crowded during July and August but it feels as though its audience is here more for the sun than for wild dancing and loud music.
Another place worth mentioning in relation to Agia Anna is the famous Spilia Restaurant. It is a local seafood restaurant set in the rocks on the right-hand side of the beach in a cave on the edge of the sea.
The best time to enjoy food at Spilia is in the evening when the lights of the restaurants above and below the water are switched on, providing diners with a truly unique atmosphere.
Divounia
Divounia is a small fishing settlement with its own little beach surrounded by two local taverns serving fresh seafood. Despite being on Google Maps and between two popular beaches, it feels very secluded, and you will find only a few people there even during the peak season.
It is a nice, little spot in which to enjoy some calmness and some fresh fish.
Kalafati
Next on the map is Kalafati — another massive, sandy beach which is certainly less developed than Elia, or even Kalo Livadi, but still offers some affordable hotels, villas and restaurants around the beach. You can also find the Mykonos Windsurfing Centre as well as all sorts of watersports activities.
It is not empty during peak, but there is always more than enough space to walk along the beach without having to pass by too many people. I am surprised that the area has not been developed more yet as it is easily reachable by car, scooter or by foot with roads leading right up to the beach.
It may be the distance from Mykonos town, but as I explained in my introduction to this article, nothing is really far: a drive from Mykonos town to Kalafati is barely 20mins by car, quicker by scooter in summer due to the traffic.
You get the same water visibility and beautiful sandy sea bottom meaning there is no risk of hurting yourself when swimming or diving. Kalafati, however, has the added benefit of being still a bit more untouched and cleaner under the sea than its direct neighbours to the west.
Lia
I remember visiting this beach several years ago. Unfortunately, I cannot remember exactly when I did so, but it must have been around 2017. While well known and easily reachable, it was not particularly popular at the time, especially among foreigners.
Nowadays, there is a mix of both Greeks and foreigners, and during the peak season, one cannot find a free sun lounger. There is no need to worry, though — there are large parts in which people can sit, lie down and relax free of charge.
This beach has very light-coloured sand mixed with smooth, little stones, the result of which is very light-blue, shimmering seawater with great visibility for snorkelling, freediving or scuba diving. In fact, there is a well-established diving school right on the beach, which can also take you farther out into the sea, where you can find the Anna II shipwreck at a depth of between 18 and 36 metres.
Right on the beach, you can find the Liasti Beach Bar, Club & Restaurant — a spacious place providing comfort, all of the necessary facilities, and great food.
This beach has grown considerably among tourists, and I expect its popularity to increase further over the coming years. While far from the town of Mykonos, it is certainly not a deserted, hidden spot anymore.
Hidden rocky beach
On the left-hand side of Lia beach, a rock formation continues all of the way to the next sandy beach, i.e. Tsagari. However, immediately before you reach Tsagari, there is a hidden, rocky bay. The best way in which to reach this little bay is from Tsagari, walking over the rocks or down the hill from the dirt road behind.
Many people may not classify this as a beach, but for the purposes of this article, we looked at any with an even and easy entry to the sea, be it via sand, pebbles or rocks.
On this hidden, rocky beach, you have 100% privacy due to being surrounded by rock formations on the left- and right-hand sides, reaching out into the sea for approximately 10 metres with very shallow waters in between, which means that any boat cannot really come that close either. There is space for 2–3 people to comfortably sit or lean backward, but lying down may be rugged or certainly less comfortable.
One should be careful when climbing over the rocks from Tsagari or down from the top, as it is slippery and steep. You can find photos on Instagram at the following address: @mykonosbeaches (post 26th August 2021).
Tsagari
Getting to the location can be somewhat confusing, not because it is a hidden, small beach but because Google Maps is inaccurate (as of 2021). It tells you that you can take a sharp right from the last remaining road leading away from Lia beach towards Tsagari — a dirt road which is anything but easy to conquer, especially if you are travelling on a scooter. In fact, there is a little stone wall along the right-hand side of the dirt road at the point where Google Maps continues telling you to turn right. At this point, you ought to simply park your vehicle and walk down the field towards the beach. You should be able to see the beach from the road.
Once you arrive at this stunning beach, all of the searching and sweat-inducing hiking down the hill will have evaporated. I have visited Tsagari at the height of the summer (in July and August) and mostly found only a handful of people there. Please be aware that it is often nudists who enjoy this calm area.
Tsagari is also perfectly protected from the wind, and the water visibility blew my mind, especially as I visited on a day when it was slightly hazy. It is all sand with some stone formations at the bottom of the sea farther out.
It is recommended to walk up the rocks on the left- or right-hand side of the beach to gain a beautiful view of the pure blues of the sea combined with the sandy beach (tiny, soft stones, not superfine sand).
Needless to say, there are absolutely no facilities, sun loungers or sun umbrellas in this location; therefore, take with you everything that you require for ultimate comfort and fun in the sun. There are some new, stunning villas dotted around Lia beach, so the assumption is probably that people from those villas consider this to be their secret and private spot.
I would rank this beach in the top three for beauty, calmness and cleanliness.
Frangias
Okay, readers, this is one massive beach that easily rivals the size of Agia Anna or even Kalo Livadi — a long, sandy stretch with mesmerising, turquoise waters and the additional benefit of being protected from the evil northern winds.
Given that it is a truly untouched paradise, what is the hook? Why is nobody there? There are a few reasons:
firstly, despite its size, it is not easy to reach. Google Maps will give you directions that lead straight down to the beach, but there is a stone wall far up the hill at a point where one is to turn slightly to the right in order to go down towards the beach. Unfortunately, while there is a clear opening in the stone wall on the road, it is blocked by a gate.
It is unclear to most people whether somebody is really watching over this massive area. Driving past the gate may be an issue, but you could certainly walk down from there. Otherwise, you can always reach the beach via boat.
It is pretty unbelievable that it is almost entirely deserted even during the peak season. There are some unfinished villas around the area. Clearly, this is an area which (sooner or later) will be taken over by a developer, either for a high-end, top-level resort or for some private villas for bigger groups or families who are seeking a true paradise, away from the hedonism for which Mykonos is usually known during the peak season.
Final words (part one)
I would like to apologise for this very long first part of my truly complete guide to Mykonos beaches. The south of Mykonos features a plethora of diverse beach spots and you could spend weeks exploring all of them, discovering the uniqueness of each during the off-peak, shoulder and peak seasons (as each time of the year provides a different experience).
You can relax, sunbathe, party day and night, shop, enjoy delicious food and drinks, enjoy a swim, freedive, scuba-dive, enjoy all kinds of watersports, hike along the beaches and hop from one to the next, chill and take in the beauty of the sunset, and relax in your villa or hotel while working and taking inspiration from the spectacular views over the Aegean Sea.
To find out more information and a range of photos and videos that showcase the outstanding water clarity and visibility from above and below the surface, follow the Instagram profile @mykonosbeaches.
Many notable developments are happening along the southern shore of Mykonos, and I expect many more exciting beach spots to emerge in the future. Come back here and to the aforementioned Instagram profile regularly to find updates.
And if, like so many, you are desperately looking for a fantastic piece of land or a villa in which to settle, view properties for sale and search for your dream place in Mykonos.
The next part of the series will focus on the western and eastern parts of the island, and in the final part we will explore the northern region, which, similarly to the south, has countless secret spots.
Written by Hannes Ben