Discovering Mykonos: Winter on the island of Mykonos (Part 2)
Did you miss Part 1? Make sure to read it here.
December
Much like January in terms of weather, but not as beautifully green or as stunningly colorful as in March and April.
The freshness of the air and the sound of the sea create a truly relaxing environment. If you want a place of calmness in a healthy environment surrounded by the sea, this is a perfect place to work or relax away from crowds.
Yes, it is stormy and it can rain a lot. Mykonos needs this rain; the more the better. This not only because it prepares the island for a long, hot, and dry summer, but results in the mind-blowing beauty encountered during spring.
Some pics of Mykonos in December:
From Tourlos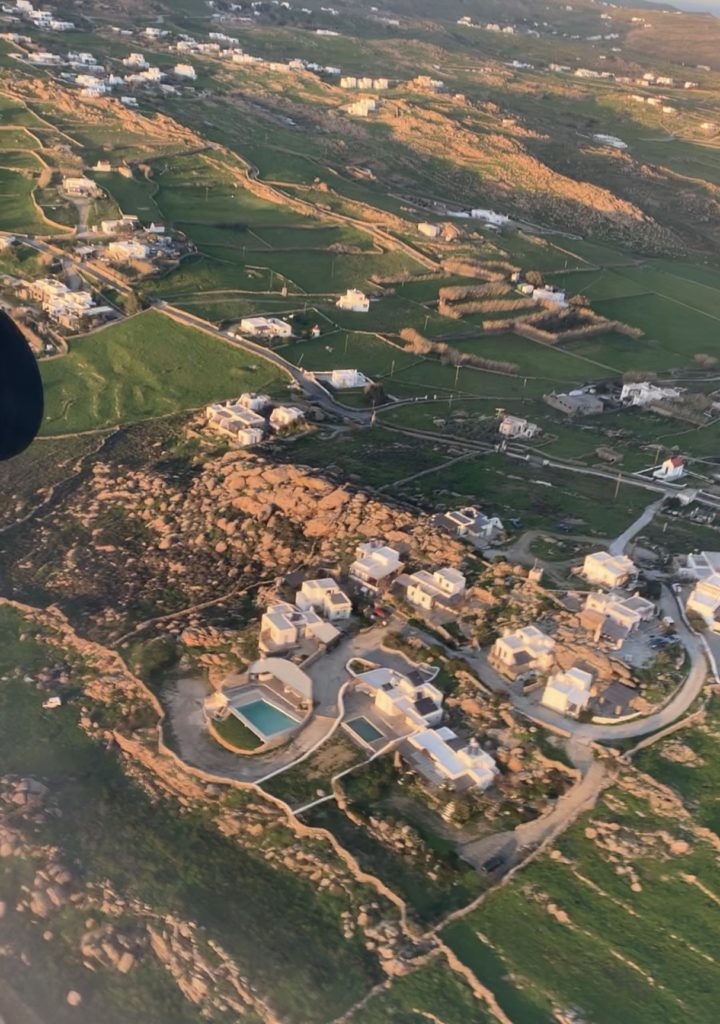 Right before the airport
View of Southern part
View of the middle of the island
January
Most online descriptions speaking about Mykonos during December—February tend to use much of the same vocabulary: boring, dark, rainy, windy, freezing, cold, or ghost town.
Most such descriptions are accurate since Mykonos tends to be rainy, stormy, and cold (anything between 8–14 degrees) during that period. However, one can encounter crisp fresh air, clear blue skies, and a calmness, which is truly relaxing.
As seen from the pictures below, Mykonos in January can offer you a place to get away from a busy city, breathe fresh air, and disconnect from endless crowds.
January is when one can start to see the green sprouting everywhere, which combined with a clear blue sky is pretty picturesque.
Few hotels remain open in January, and most only in town. However, private houses/villas that offer accommodation are increasing in number and can be found on popular booking sites.
Restaurants along the city port remain open all year long, as are some local cafeterias in town. If you want to find a particular shop to buy something, be it food, clothes, or sunglasses, simply enquire at your residence and someone will help you out.
Some images of what Mykonos looks like in January:
From the hill behind town
View from Agia Sofia
February
This can be the stormiest and often the coldest month. But let me elaborate what I mean by "cold"—I am talking between 8–16 degrees (Celsius, which I shall maintain throughout the article). During windy and rainy spells, it may feel significantly colder.
However, in February, the greens of the island feel the most intense and the first flowers start to blossom. The entire landscape is green mixed with rocks and white buildings, and surrounded by the clear, blue sea.
Please peruse the pictures below:
From the town after rain
Agia Sofia
At the sea in Tourlos
As far as accommodation is concerned, the same rules apply as in January.
Thank you for reading Part 2 of our Discovering Mykonos series – come back soon to find out more about Mykonos in Spring and Summer.