Discovering Mykonos: Spring on the island of Mykonos (Part 3)
Before you read: Make sure to read Part 1 and Part 2.
MARCH
March is when the flowers begin to blossom and the grass and trees peak in growth. The island is not only green, it starts to look truly colorful.
Like in February, there may be stormy days with heavy rain. Temperatures toward the end of the month could reach 18 degrees.
During this time, tourists begin travelling to Mykonos. The island offers some beautifully calm and idyllic sunsets uninterrupted by the crowds during this season.
Throughout December–March, I strongly suggest exploring the island whenever one encounters a sunny day. Walk up some of the hills, explore the many beaches, and discover fauna you won't come across during the summers.
More hotels remain open during this time. Available high-end properties are offered at very low prices, as compared to the summer season rates.
Some images of Mykonos in March are provided below:
From a pool right behind town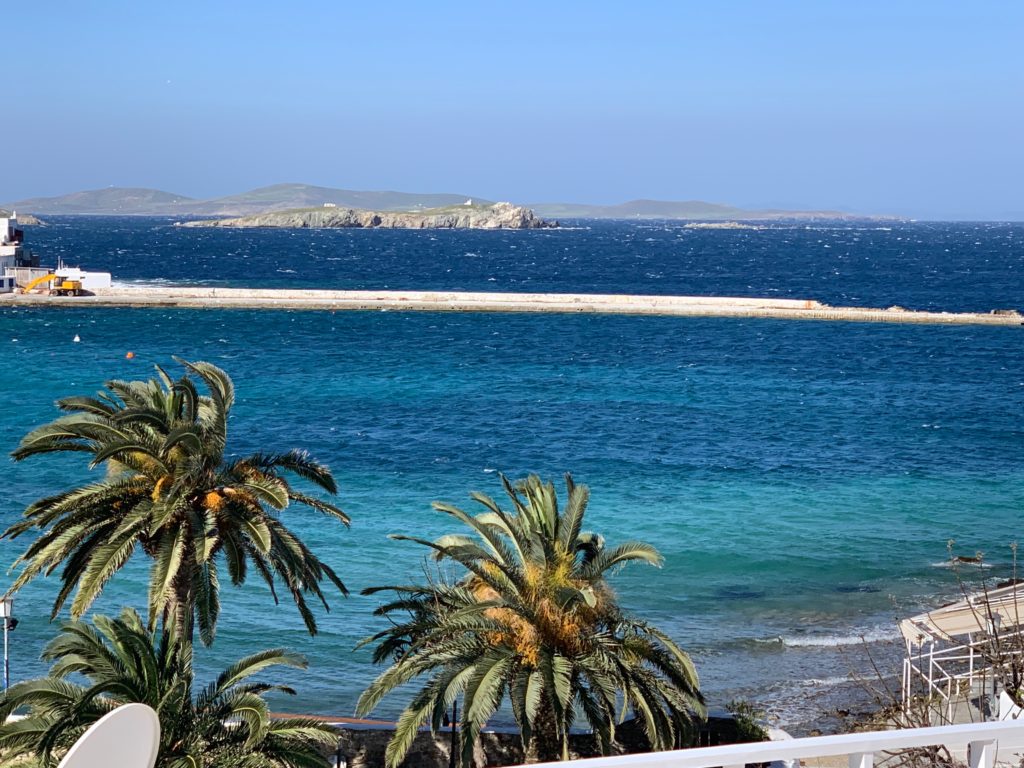 From town over the sea
From a villa right behind town
The town from the town beach
APRIL
Unlike in the past, April is nowadays already considered a key month for hotels, villas, restaurants, and bars to be open. This is mostly due to Easter, during which many Europeans enjoy their bank holidays on this island.
Temperatures remain between 14–20 degrees. People can walk around in lighter clothes. Just remember to carry a jacket during evenings and nights.
The variety of colors is at its richest during April–May. Yellow, pink, and blue flowers are in full bloom, mixed with the intense green of trees, bushes, and grass.
Several tourists have opined that they like the second half of April and first half of May the most for travel.
Here is what the island looks like in April:
From the 180 degree bar
View over Korfos
From a hill behind Tourlos
From Agios Stefanos
MAY
May is when it starts to get busy. The first half is quieter; you can still get spots in the best hotels and villas for a quarter of peak season prices, or at lower rates.
This is the ideal time to check out five-star hotels or stunning high-end villas, which may leave you strapped for cash later, during June–September.
The island remains green, with stunning scenery. Temperatures reach up to 26 degrees. However, as the sun intensifies and rain becomes scarce, the intense green colorfulness of the landscape starts to fade slightly toward the end of May.
Many people go for a swim, even though some find the sea quite chilly.
I would recommend taking a jumper and/or jacket during the evenings, especially in the first two weeks of May.
You can do almost everything during this month: experience high-end hotels and villas, book fantastic restaurants, enjoy warm weather, walk along beaches surrounded by a colorful scenery, or hike up the hills and enjoy the views.
Look at the pictures below to get a feel of Mykonos in May:
Agia Anna beach
Private hotel beach
Private beach next to Agia Ioannis
On a hill behind Agia Ioannis
Thank you for reading Part 3 of our Discovering Mykonos series – come back soon to read about summer on the island of Mykonos!