Best Examples of Cycladic Architecture
To be honest, not many people travel to the Cyclades islands because of the architecture.
There's just too much natural beauty, historically relevant sites, and amazing nightlife venues for architecture to rank high on a traveler's anticipation scale. And yet…
Talk to anyone who's spent an afternoon walking the streets of Mykonos and the first thing brought up is usually its unique, beautiful homes. Followed by a quick recount on how they got happily lost for a while among its charmingly intricate passageways and cubby holes.
So, while it might not be a big draw, Cycladic architecture is undoubtedly something that stays with you forever.
Here, you'll get a small taste of how engrossing an experience it can be to walk through the streets of Mykonos and its neighboring islands. All through the lens of its unique and charming architecture.
Distinctive White & Blue Hues
White-brushed walls and blue shutters & doors – mirroring the cobalt sky and the white surf's crests – are an emblematic feature of Cycladic landscapes.
However, this uniform palette on the islands' architecture is not a happy accident.
Surprisingly, it was Ioannis Metaxas – a Greek prime minister – who ordered back in 1936 to pain the Cyclades islands in white and blue colors. A decision inspired by the waves foams of the Aegean and the piercing blue of the Greek Sky.
It's a simple, yet endearing combination that only serves to highlight the vibrant colors in flower pots, gardens, and decorations — commonplace around the island.
The white of the walls also provides much-needed function beyond mere aesthetics, helping reduce sun heat absorption during summer months.
It's an appropriate mix of colors that light up in vibrant tones during sunsets and sunrises — giving the whole scenery a faerie feel.
Arrangement & Appearance
Cycladic houses also enjoy a somewhat unique distribution and appearance. The former varying from island to island, while the latter remains rather consistent across most.
Houses in these parts tend to be squat, small affairs. Seemingly strewn around the areas that form the cramped towns and villages. The buildings themselves have become a delightful and iconic sight.
This minimalistic feel is echoed across Cycladic architecture, and the positioning of the houses is nothing but inspired.
The environment itself – Climate, landscape, weather, sweet water scarcity – was a crucial aspect that helped shape this uniform feel.
Without an architectural plan at all, the villages developed following the local territory's cues. Without plentiful wood available in the islands, beams were rarely taller than 3 meters, resulting in mostly short, one-floor buildings.
Predating electricity, residences in Mykonos and the surrounding islands usually have a southeastern orientation, to better use natural light. Their walls are 80 cm thick at most, which helps retain heat in the winter and chillness during summer time. This sort of "hectic uniformity" only adds to the villages' charm.
There's a good chance you've already come across images of the Cycladic streets, as their recognizable patterns stars in many a postcard and picture.
Cobbled intricate corridors and trails are a staple in the Greek islands, with winding and often confusing orientations and bifurcations. Turning and crisscrossing in manners that in no small ways can resemble a labyrinth.
A feature entirely intentional.
As piracy was a huge problem for the Aegean islands in medieval times, Cycladic architecture evolved with an evidently "defensive" style.
Houses were often surrounded by strong walls, while villages were often built at high altitude and away from the sea — offering its inhabitants timely warning of pirate incursions, and enough time to prepare.
Today, those same streets are the source of many stories of making just a wrong turn and spending a while trying to find the way back. Leading, more often than not, to discover fantastic hidden gems through the villages.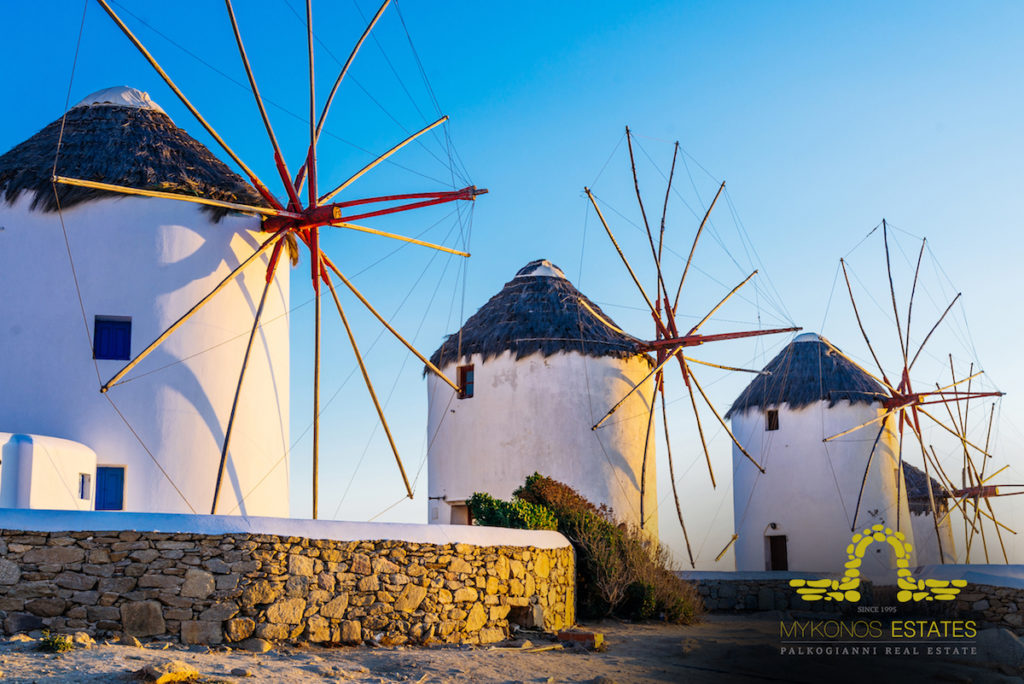 Churches & Windmills
A sampling on Cycladic architecture would be lacking without at least a passing mention of the two more distinct types of landmarks of the Greek islands: Their splendid churches and traditional windmills.
Used since ages past to grind the grain produced in the islands, almost every village had its own windmill until a few decades ago. Today, even though technology has rendered their original function obsolete, they now stand as monuments to tradition and legacy.
With most of them in ruins and a handful restored to near perfection, beautiful windmills can be seen on the hills of Mykonos, Ios, and Paros.
In the same vein, Cycladic churches also hint to a particular chapter in local architecture.
Countless churches can be found all across the islands, sporting the common white walls and blue or white domes.
While varying in styles and sizes – from large cathedrals to tiny countryside chapels – churches in the Cyclades are an essential part of the architecture and culture of the landscape.
These examples of Cycladic architecture capture the island's dwellings' essence, and the manner in which they add to the absolute splendor of the surroundings.
Beautifully framing breathtaking vistas and awe-inspiring backdrops, ubiquitous in the Greek isles.
And, while not warranting a visit on their own, are certainly something else to look forward on your next visit to Mykonos.
Here is a great video that explains the features usually connected to the exotic Cycladic architecture:
If you are looking to purchase a Mykonos Villa, be sure to contact Mykonos Estates.